IB_COM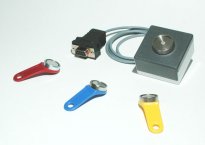 System of identification of the personnel for the cash registers and cases PC.
The reader of keys with DALLAS chip is connected directly on the port COM
Electronic circuit is integrated inside DB 9 poles.
The keys are maintained on the read head by micromagnets.
The keys are resistant against the shocks, water,etc
This system of identification conceived on the basis of reliable and tested technology, offers a great facility of use to you.
Technical data
Power directly via the port COM or by pine 1 of the connector DB 9/5VDC
Possibility of programming a code retailer - code site
Data protection / encoding of the keys
Read head out of nickelled brass/4 to 8 magnets according to the force of desired attraction
Standards applied: CEI 61000-4-2 / EN 50081-1
---